The TESTimator is a new rubric in which we try out many different foods, drinks and places for you, such that you do not have to go to the bad ones anymore. In this first edition, we had to go for one of the primary necessities for almost every econometrician: coffee. It's the one thing that keeps us going during the terrible times that we call exam week, but which coffee on campus is actually best then? We tested out five different coffees on campus and rated them on a scale from 1 to 5 coffee beans.
Machine coffee Theil Hall
Score: 2.5 out of 5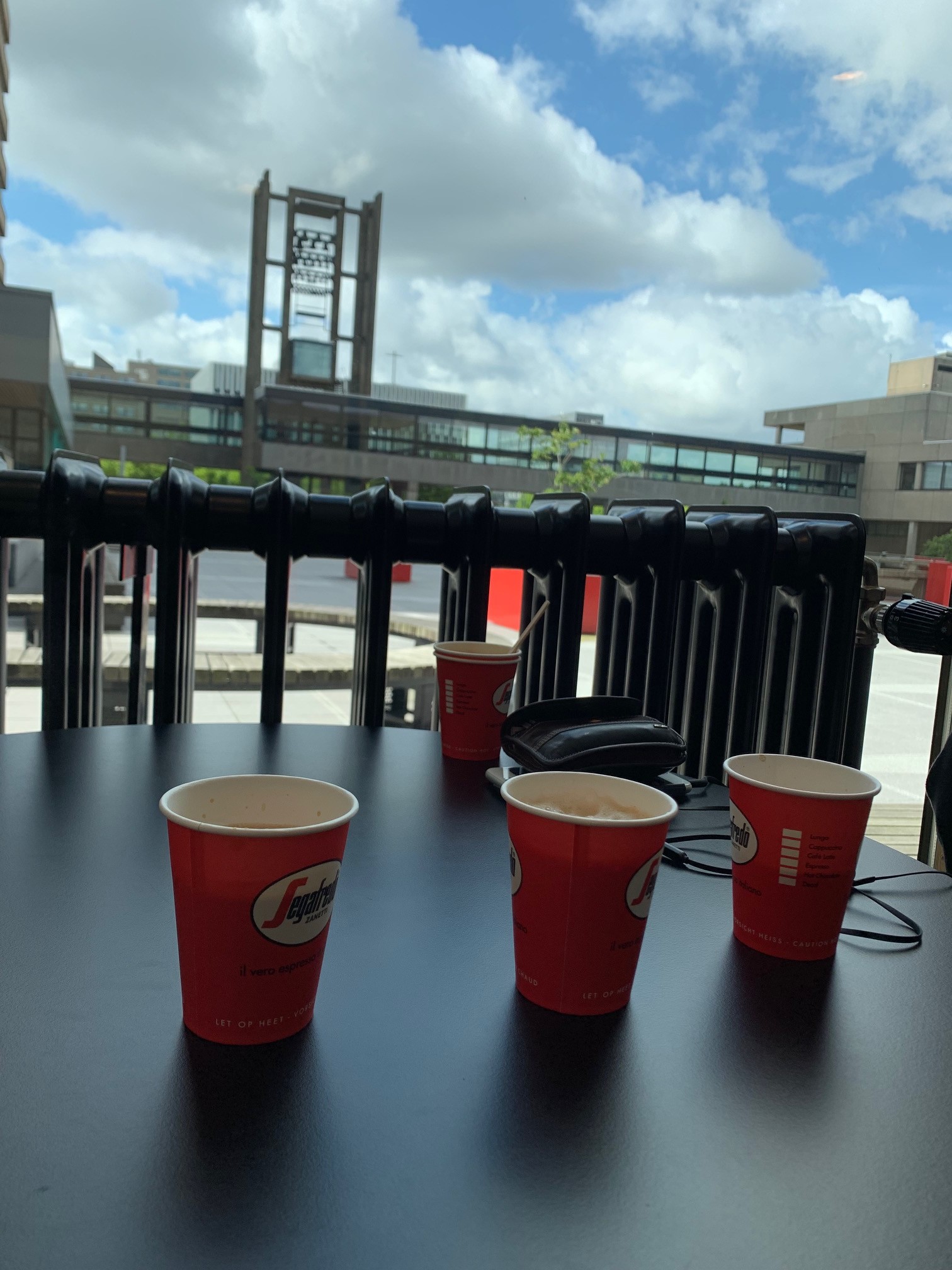 First up, the well-known coffee machines that can be found all over campus, including Theil hall. The coffee is cheap: 80 cents per cup and even free when you're lucky enough to be (or know) an EUR employee. Coffee is made of fresh beans and there are many other drink options to choose (Estimator favourites: Wiener Melange and Chocochino). The black coffee does not look great, but smells quite okay. In terms of taste, the coffee is definitely not the best, it's very bitter and also a bit sour, but also not the worst. However, it is easy to chug, according to some experts ;). The cappuccino gets good scores when it comes to aesthetics and smell, but scores very low on bitterness, which is a pity. Besides, there is no vegan-friendly option for it.
It is easy to chug, according to some experts ;)
Overall, the machine coffee gets a score of 2.5 out of 5 coffee beans. The coffee and cappuccino are both decent, considering the low price and the atmosphere of the coffee corners in Theil hall is nice. However, there exist many better coffees, so I would only go here when you really want your coffee to be cheap.
FAECTOR coffee
Score: 4 out of 5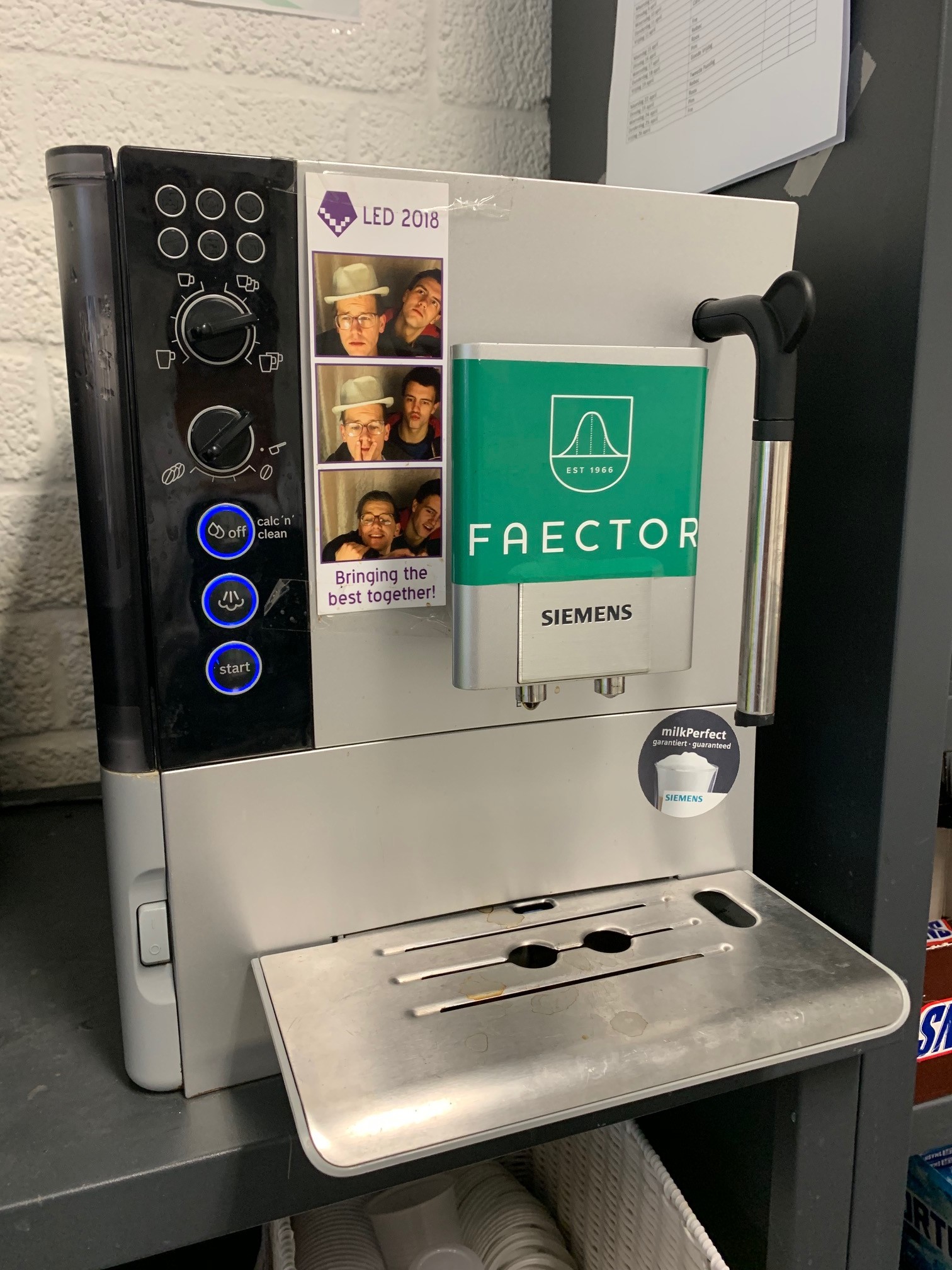 When writing an article about coffee, the Estimator of course had to include their favourite machine. Henriëtte (the name of this machine, named after our favourite lady from the H-canteen) can be found in the FAECTOR office and serves you a cup of coffee made from fresh beans. Unfortunately, our association does not (yet) offer cappuccino, so we only tried out regular black coffee, which is free for all FAECTOR members.
The coffee comes in a very cute cup and both looks and smells promising. The taste is great: it has a nice bitterness, but not too much, and is not at all sour. Besides, getting coffee at FAECTOR quite often comes with a small chat with the board, or anyone else chilling (or working) at the office. The machine is self-service, but there's always somebody to help you get that much-needed cup of caffeine and as an extra, you can also get cheap snacks here. Because of the good coffee, nice atmosphere and service and the very comfortable couches to sit on while sipping on your coffee, FAECTOR gets a score of 4 out of 5 coffee beans.
Library coffee
Score: 4 out of 5
Together with the FAECTOR office, the library is probably the place where most coffee is consumed by econometricians. Luckily, coffee made from fresh beans costs only 80 cents per cup here, which is the same as in Theil building, but the cups are bigger and bio-degradable. The black coffee does not look or smell very promising, but does make up for that in terms of taste. The coffee has a nice bitterness and almost no sourness, which is great. The cappuccino scores quite the same on all points. Also this one does not have great smell or looks, but the taste is good. Unfortunately, there is no vegan-friendly option for the cappuccino, which is a pity.
Overall, the coffee at library gets a score of 4 out of 5 coffee beans. The coffee is very good, especially considering the low price. However, waiting lines are often very long and it's not exactly the coffee place with the nicest atmosphere on campus.
SPAR coffee
Score: 3 out of 5
Another much-visited coffee place is the SPAR on campus. The coffee used to be only 1 euro for a while, but they have recently increased the prices to 1.25 euros for every cup. In exchange for that, you do get a large cup of fresh-bean coffee. The black coffee scores average when it comes to both looks and smell, it's basically just what you expect a coffee to be. The taste is good, nice bitterness and not sour, but not spectacular. A big plus about the cappuccino (and any other coffee with milk) at SPAR is that they have a special vegan machine, serving all drinks with soy milk, for the same price. The cappuccino looks tasty and has a nice smell, so first impressions are great. In terms of taste, the bitterness is slightly missing, making the taste of milk dominant. 
All in all, the coffee is good, but there are better coffees you can get for about the same price. Also, it is often very busy at these machines and the atmosphere is therefore not really nice. Considering everything, the SPAR gets awarded a score of 3 out of 5 coffee beans.
Bean Square coffee
Score: 4 out of 5
The last coffee of this review is the one from Bean Square in Theil building. For most of us, this is not the first option to get coffee, but it is close to lecture halls and the library. Sometimes, there is quite a long waiting line, but most of the time you can just walk through and get a cup of coffee that is freshly made for you. Black coffee costs 1.40 euros and has a decent size. The smell is very promising, although the looks aren't really. In terms of taste, we were positively surprised. The coffee is perfectly bitter and has no hint of sourness in it. The cappuccino costs 1.60 euros, smells good and the foam looks much better than that of normal machine coffee. The taste of the cappuccino is very good as well, as it is bitter enough to taste the coffee, but also still has the taste of milk.The only point of improvement here would be that there is no vegan option (yet).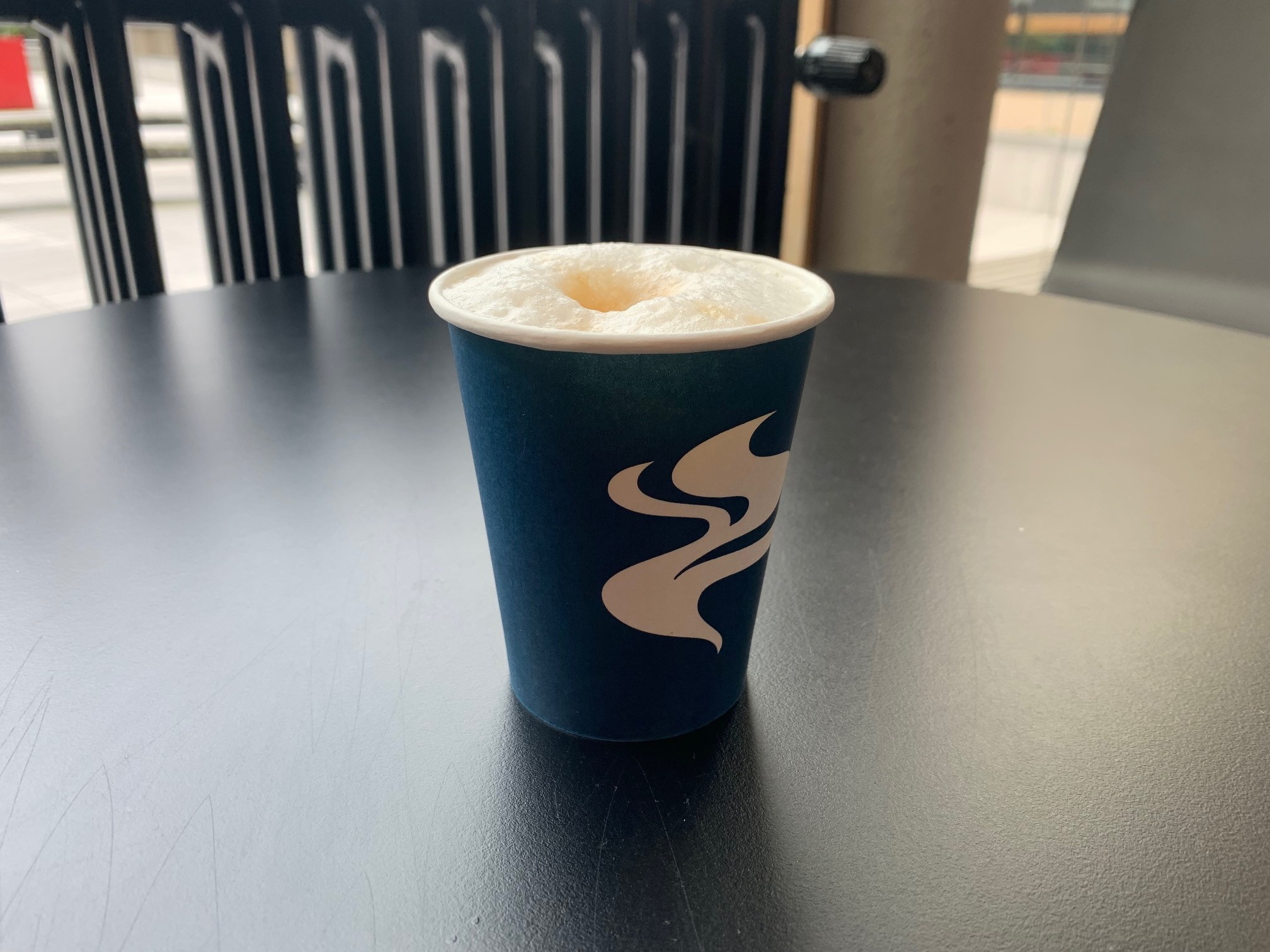 In terms of taste and service, this coffee is definitely the best, but you also pay for this extra quality. Besides, Bean Square does not have very lenient opening hours and is even closed the entire weekend. This coffee place therefore gets a score of 4 out of 5 coffee beans.
Conclusions
Of the five coffees tested, three got the same score (4 out of 5), meaning we have three winners. FAECTOR, library and Bean Square coffee still differ a lot from each other, so here's a final analysis.
Best coffee in terms of taste: Bean Square
Best price-to-quality ratio: FAECTOR (come on, nothing can beat a free coffee)
Best coffee while studying: Library coffee, since it is close to the study spots and also scores high on the price-to-quality scale.